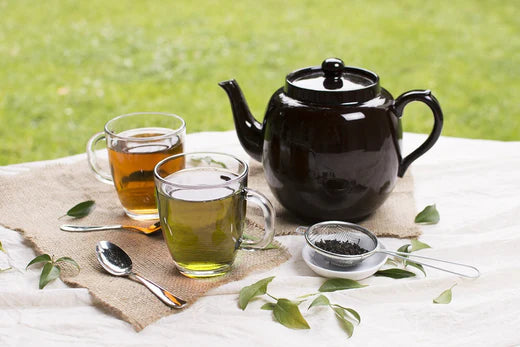 A morning rising with a hot cup of tea! A match made in heaven. A piece of music to your ears and a treat for your nose and taste buds. Well, it has already been established that tea is one of the most beloved stimulant drinks across the globe. Apart from the freshness it provides, tea has been widely loved for its health benefits too. Be it stress relief, preventing chronic diseases or effective weight loss, the list is endless.
But, there are so many varieties of tea around. Some of them are quite popular too. Like Black Tea and Green Tea. Which one is better? Which one should you include in your active lifestyle?
Let us take you through this voyage and debunk the Black Tea Vs Green Tea scenario.
Let's discuss Black Tea health benefits first.
Don't we all love that quick snap of freshness after we wake up to start our day? Well, black tea does that for us. And the good news is it does so with much less caffeine content in comparison to coffee. It gives you the required mind boost without excessive and unwanted jitters. It is important to note that it takes a heavier oxidation method to prepare black tea. This results in enhanced sourcing of theaflavins. This element augments the production of natural antioxidants within the human body keeping the heart stronger and body fit.
Coming to black tea weight loss subject, it aids in maintaining the cholesterol levels within your body and improves immunity due to its rich antioxidants. All these also help you with your weight loss regime. Studies show that black tea can be very effective in the prevention of obesity that is induced due to inflammation. With all the benefits of black tea discussed, don't think that Green Tea is far behind. In fact, it is a strong contender.
Let's look into Green Tea health benefits now.
As we mentioned earlier that black tea undergoes a stronger oxidation process. But that is not required in case of green tea production. Hence it retains more of catechins. Now, what does this element do? It works as a wonderful anti-ageing component. Apart from this, green tea helps you to keep cardiovascular diseases at bay. It is an excellent manager of blood pressure levels if you include it in your daily lifestyle.
You can benefit from the green tea weight loss regime as well. The polyphenols present in green tea are an excellent inhibitor for fat cell formation. It even aids in augmenting the fat burning process, so that you can shed those extra inches with ease.
Now, the main question arises which one is better for you? Black Tea or Green Tea!
Well! It all depends on your preference and the pointers you are trying to achieve. We all know that today's lifestyle is hectic. Long stretching office hours, hustle related to daily chores, polluted environment, stress and much more. If you are looking for distressing yourself in a natural way and keeping your body fit and healthy, go for Black Tea. But if your target is to shed a few kilos and getting slim, then Green Tea is your BFF.