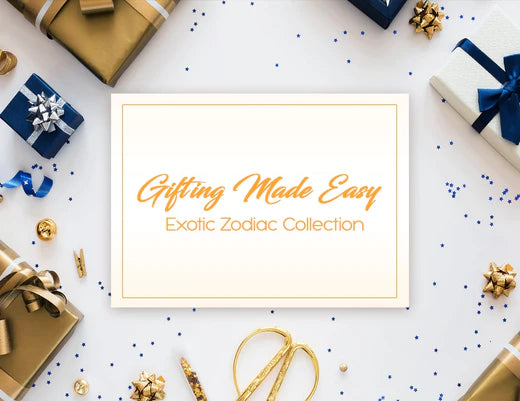 Every gift is a wish for your happiness. To ensure that you keep spreading happiness, we've tried to simplify gifting for you. With many upcoming situations that will require you to choose gifts for your loved ones - we present the Chai Craft Exotic Zodiac Collection.
Friendship's Day is just around the corner. Most of us would love to give something meaningful and thoughtful to our friends. But sometimes the pressure of finding the perfect gift can be overbearing. The Chai Craft Exotic Tea collection boxes are available for each Zodiac sign. Beautifully packed in a wooden chest, this collection of freshly picked tea blended to exotic variants  is a great gift for your friends. Just add a beautiful handwritten note or even drop them a long voice note and its surely to leave them warm and fuzzy.
Younger siblings still have it comparatively easy as far as gift giving is concerned. Customized hampers to t-shirts with quirky lines, monogrammed jewellery to even Cloud space - you'd be amazed at the explorable options. As you mature - gifting something to your sibling needs to signify the growth of the relationship. The Zodiac Collection Gift boxes from Chai Craft therefore can be considered for the same. These tea chests use black tea as the base for some flavourful blends. Order them just in time for the festival of brotherhood.
Zodiac signs and birthdays - now that's a no brainer. Our birthdays decide our sun signs and also help us get categorized into some common personality traits that we share with other fellow people who belong to that zodiac. At Chai Craft we decided to blend those common traits with the love for tea. Et Voila! Giving way for our Exotic Zodiac Tea Collection. With elements of each Zodiac imprinted on the packaging - you can choose to gift the box that matches the receiver's sun sign.
We hold a lot of reverence for our mentors in our life. Not that you needed an occasion, but there is an entire day dedicated to help you make them feel special and offer your regards. 29th October is celebrated as Mentoring Day. Needless to say that mentees offer odes of thanks to their mentors and a token of appreciation accompanies. The Zodiac Collection Gift Boxes make for an interesting choice here too. They are personal, but not intrusive and hence make for a balanced gift idea.
About the Chai Craft Exotic Zodiac Collection
The collection offers 12 tea boxes - one for each of the sun signs 

These come in exotic flavour blends 

Freshly picked loose leaf tea that can be steeped easily make these tea boxes a delight for any tea enthusiast 

They are ready to be shipped across India
Chai Craft offers a variety of gifting options that offer our artisanal tea bags and loose leaf caddies packaged thoughtfully together.
Happy gifting!